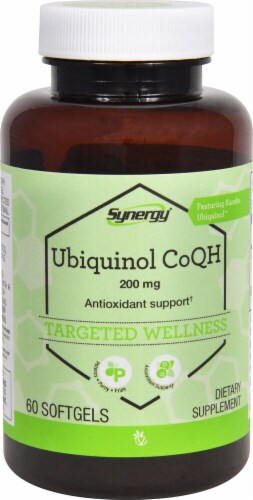 Hover to Zoom
Vitacost Synergy Ubiquinol CoQH Targeted Wellness Softgels 200mg
Product Details
Ubiquinol is a new, stabilized form of coenzyme Q10 (CoQ10). CoQ10 is a fat-soluble, vitamin-like compound found in every cell of the body. It's used by the mitochondria ("power plants") of cells to produce energy. CoQ10 is found in highest concentration in cells of organs that require large amounts of energy, such as the heart.
CoQ10 also functions as a powerful antioxidant.* Antioxidants help protect cells from free radical damage. Free radicals are harmful compounds generated during normal body processes, such as breathing and digestion, but also upon exposure to environmental influences such as UV sunlight and smoke. Free radicals attack healthy cells, damaging their membranes, DNA and other components, compromising normal cell function.
While the body produces CoQ10 on its own, levels decline over time, with a steady decrease beginning after age 30. Factors such as aging, genetics, and cholesterol-lowering statins can lead to a CoQ10 deficiency.
Ubiquinol is a reduced form of CoQ10 (ubiquinone). It is the form which is directly used in human metabolism as a lipid-soluble antioxidant.*
What are the key benefits of Synergy Ubiquinol CoQH Featuring Kaneka QH™?
Ubiquinol is very protective against oxygen radical formation.*
Ubiquinol has twice the bioavailability of ubiquinone.
Cholesterol-lowering statin drugs can lower serum CoQ10 levels.
*These statements have not been evaluated by the Food and Drug Administration. This product is not intended to diagnose, treat, cure, or prevent any disease.
---