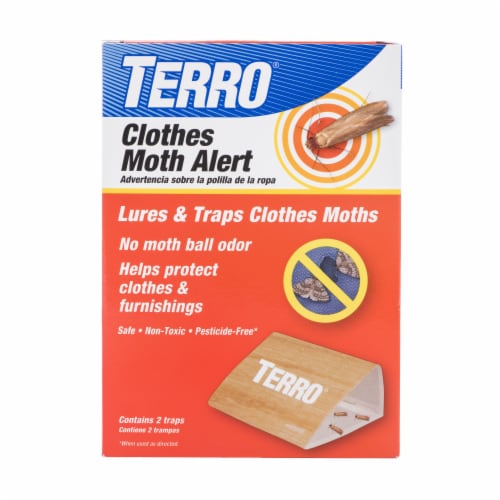 Hover to Zoom
TERRO® Clothes Moth Alert Trap
Product Details
Moth alert trap helps protect clothing and furniture from costly moth damage. Designed to alert you to moth problems by luring and trapping adult moths. Ideal for use in and around fabric storage areas. Moths are drawn to the pheromone lures in the glue trap. If adult moths are present in the trap, all fabric should be cleaned to eliminate the clothes moth larvae, which do the actual damage to the fabric. Safe, non-toxic, and pesticide free. No moth ball odor. Replace traps after 12 weeks. Includes 2 glue traps and 2 individually wrapped pheromone lures per box.
Easy to use – simply remove adhesive backing, attach inside of trash can and close the lid
Included adhesive strip for easy attachment to trash can lids
Deep penetrating vapor kills insects and prevents infestations
Designed for use in outdoor and garage trash cans, dumpsters and trash bins
Controlled release for long-lasting protection – up to 4 months!
Product Form: Glue Residential/Commercial: Residential
Longevity: 3 Months
Safe For Pets: Yes
---