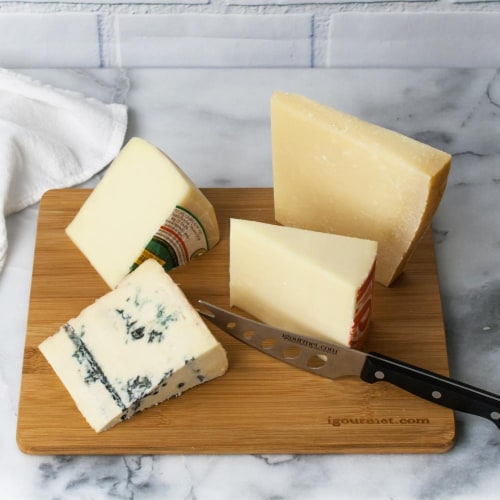 Hover to Zoom
Italian Cheese Board Gift Set (30 ounce)
Purchase Options
Sold and Shipped by
Product Details
Americans tend to use Italian cheeses in their cooking, and they are wonderful for this purpose. This board, however, allows you to taste three Italian cheeses independently, without the masking of other foods.
Pecorino Toscano: This young sheep's milk cheese has a smooth, semi-soft texture and a flavor that hints of the wildflowers and herbs of the Tuscan countryside. (7.5 oz)
Mountain Gorgonzola: From Italy's Lombardy region, we present Mountain Gorgonzola, a sharp and tangy cheese. With its white interior laced with streaks of blue, this is an attractive table cheese and a savory ingredient in your favorite salad. (7.5 oz)
Provolone Piccante: The piccante (sharp) version of this classic Italian cheese is more complex and great on sandwiches or chunked. (7.5 oz)
Grana Padano Stravecchio Oro del Tempo: This superior product, aged for 22 months, is a world-class hard cheese. Second to none! (7.5 oz)
igourmet.com Signature Cheese Serving Knife: Specifically crafted for igourmet.com, this multi-function cheese knife is the perfect tool to easily slice uniform servings of your favorite cheese.
Bamboo Cheese Board: A stunning and durable gift that will be enjoyed for years to come. (Dimensions: 9x11)
Please note that any item temporarily out of stock will be substituted with a similar item of equal or greater value.
Shipping & Return Information
---