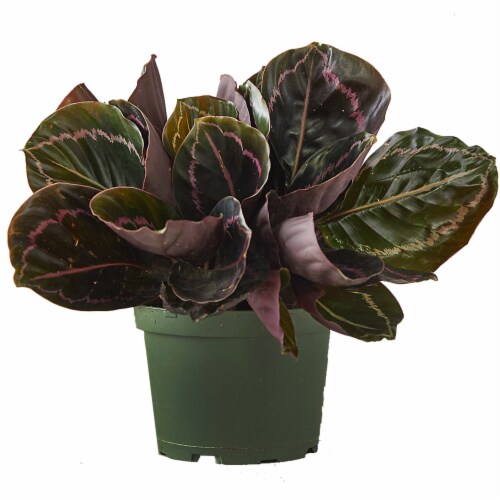 Hover to Zoom
Calathea Dottie Potted Plant (Approximate Delivery is 2-7 Days)
6-inch pot
UPC: 0081005417790
Product Details
The Calathea roseopicta, or more commonly known as the Calathea Dottie plant, is a decorative perennial with its green foliage with deep burgundy undersides is complemented with bright pink markings that is sure to liven up any space. The Dottie Calathea is a low maintenance plant and does extremely well when planted in containers. It has a clumping growth habit that adds interest to the already unique appearance! During the summer and fall it produces white blooms.
A non-toxic pet friendly choice! Like other calathea plants, it is so named for its attractive foliage and interesting patterns. The plants unique foliage makes it the perfect choice to add some flair to your home or office space. Indoor house plants are proven to be excellent air purifiers which help decrease stress and anxiety while stimulating creativity and productivity. Great for yourself or as a gift!
We do not ship to California, Arizona, Hawaii, Alaska or Puerto Rico. We do not recommend shipping to extremely cold weather states.
Your Calathea will do best in medium to low indirect light. Never allow this plant to receive direct sunlight, as the leaves will burn.
Try to maintain a regular watering schedule and keep this plant moist, but not wet or soggy. This is not a drought-tolerant plant, but it is relatively forgiving if you forget to water it from time to time.
Like many tropical indoor plants, your Dottie plant prefers a spot with ample humidity. If leaf edges begin to curl or brown up, mist them with lukewarm water on a regular basis, or place a humidifier nearby.
---