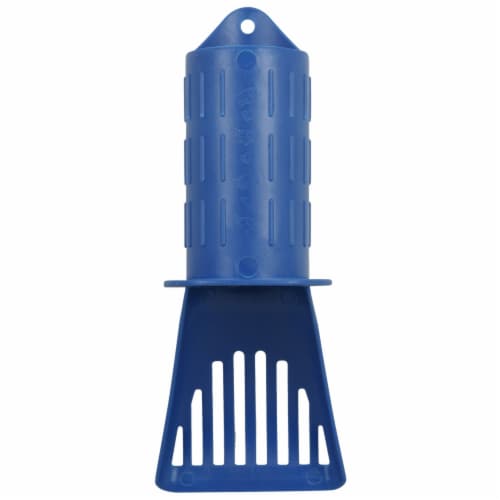 Hover to Zoom
One Two Scoop' Easy Poop and Kitty Cat Litter Scooper - One Size / Blue
Product Details
Pet Life 'One Two Scoop' Easy Poop and Kitty Cat Litter Scooper - One Size / Blue
The Pet Life 'One Two Scoop' Easy Poop and Kitty Cat Litter Scooper makes it easy and convenient to dispose of waste and fecal matter in a matter of seconds without any mess. Simply place a bag over the cylindrical handle and scoop up any clumping cat litter, then lightly sift away the litter grains from clumps into through the shovel grid and tilt upwards and watch the clumps fall right into the bag and recycle. Super easy to use and a hygienic way to get rid of litter clumps without breaking a sweat. The One-Two-Scoop is composed of thick-heavy grade plastic that is built to last. SIZING DIMENSIONS: (INCHES) L x W x H 10.35 X 4.06 X 4.06
Simply Place a Wastebag above the Cylinder and Scoop Litter and Fecal Meatter and scoop right into the bag, mess free!
Features larger transparent rivets designed to remove both Smaller and Larger Clumps from Cat Litter
Composed of Ultra-Durable Thick-Grade Plastic, built-to-last
Quick, Simple, Easy and Mess-Free. A Hygenic way to remove clumps from litter.
Works on all litter clumping types, and can be used for all sized Waste Bags
Size: One Size
Color: Blue
Primary Color: Blue
Fabric: PVC
Item Dimensions (W x D x H): 4.06 x 10.35 x 4.06
---